You're a busy business owner, with a to-do list as long as your leg.
So how do you go from small business owner to smashing it and having that work-life balance. If that even exists at all….
Well, a step in the right direction is letting your website take some of the strain.
You heard it said over and over again, "we all have the same 24 hours in a day" it's how you use it that counts. SO doing pointless tasks that swallow up time (that you don't have) is just adding stress.
We don't want that. I did that to myself in January, you may of seen the post on LinkedIn.
Not good…
So here are 7 things you can automate with your website, to help take the strain of running a business.
If you're not a scroller, I've added a breakdown underneath so that you can read and implement.
1: Automatically book appointments and fill your calendar: You need customers, you need to book appointments, but by having an automated booking system.
Save time going back and forth with suitable appointments by taking that out of the conversation and allowing people to book a time that is mutually convenient.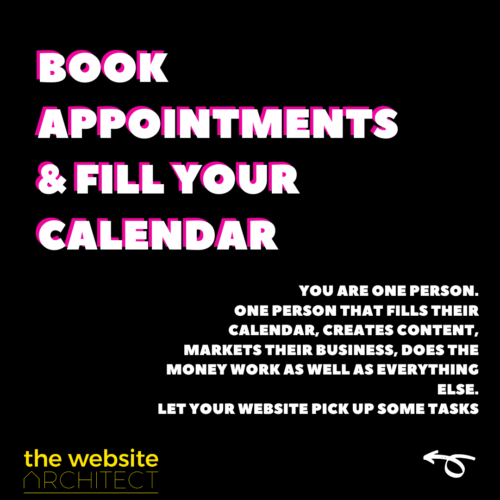 2: Answer repetitive questions! It's a drag having to answer the same thing time and time again,and if you noted down how much time it took you to answer the same question over and over again, you'd be mortified!
Having a simple, automatic response to questions is a massive time saver for me. And if you can put an FAQ page together on your website – even better. As then you can just send your customers a link and probably answer multiple questions at once.
3: Create and send automatic follow ups to past clients.
Some people like to keep in touch via phone, others email. We're all different.
One thing I can tell you, is that I talk to a lot of people that don't keep in touch with past customers AT ALL! *shocked emoji* (One day Microsoft will catch on and I'll get an emoji keyboard.)
I was guilty of this, but you're leavng money on the table. You already have a relationship with these people, you've already done the hard work (as long as it was a smooth relationship in the first place!), so why go to the hassle of not following up??? It can be as simple as an automated email series.
Remember, It's first to mind, not first to market (Do you know who said that???) so keeping in touch means you're more likely to be FIRST TO MIND.
4: Do you give the same instructions over and over again to new clients?
Very similar to FAQ's, this is about clients already working with you, a good example of this for me is that I provide emails with all my hosting packages. WHat I don't do though is set it up for the customer. Because I work with people far and wide from across the globe, it isn't always possible to set these things up. So I'll create the address, send over log in details and instructions on what do according to their system. But it is just a video, pre recorded and I send it over in a pdf.
What can you do to make things easier for you and your client?
Could you create a log in portal for them and have everything they need in one place?
Save yourself time (and frustration) by having everything done and ready to go, when your client is.
5: potentially this could be number 1. As it is a really important one.
How long do you spend every week chasing up late payers?
You'd probably be surprised… And when you know the numbers it isn't fun. But customers (and cash) is the lifeblood of any business. So we have to do it. And it isn't (always) malicious. Solopreneurs (another emoji here would be the pukey face – I hate that word, but it works in this situation), we're busy enough (hence this post!), we don't need to be busy and skint!
Setting up a platform like Quickbooks that works alongside your website is a great way to save time and work on other important things, like getting more customers in!
6: Another important and painful one. Testimonials and reviews!
It can be really difficult to get these from people.
Partly because a lot of the time, they don't know what to say. They become very conscious that it will be out there online for people to see. They totally over think it!
So recently, I started taking the hassle out of it. I've put a set of 5 questiosn together and an email prompt through Mailchimp, that is linked to my website. 5 really easy and simple questions, that you can put together and create a case study or testimonial.
You can even, if you like (but remember we're supposed to be saving time here) ask their permission to sign it off when you've created said case study.
Because case studies are fantastic social proof for bringing on new clients through your website.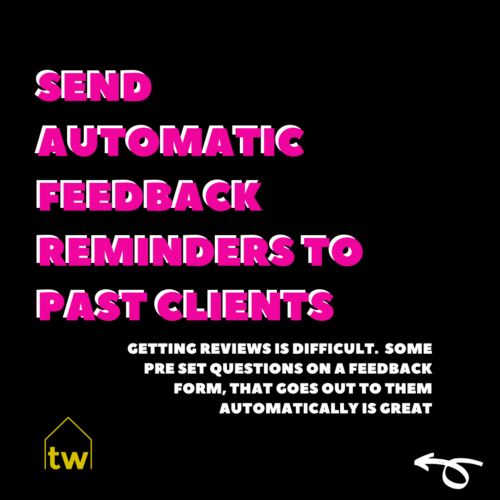 7: create a client portal.
I touched on this one earlier. However, this one is great for making your customers feel special and you have to make the initial effort once. So the portal can:
answer questions
include tutorials and videos
On board and off board clients
send reminders
do admin (for you, not them!)
Give downloads
Take payments
Raise support tickets
Issue invoices ; )
And lots more!
It's also great for keeping that communication with your client and also streamlining it.
Making sure your clients are with you on your land (your website) instead of a social media platform.