I've got something new for you!
So I've been focusing a lot of my time on working with start ups lately. I feel that they are the ones that need help, when just starting out there's so much to do!
You've tried talking to people and networking, you've tried building the site yourself, but you're getting nowhere! It takes time that you haven't got.
And then if you do get it to look the way you want it to, it loads reeeeeeally sloooooowly so everyone that finds it (by some freak chance, because, well…. SEO!) and then they BOUNCE!
Or it wont display properly on a mobile, or any of the other complicated reasons that this website is not working for you.
Maybe you knew better and decided not to even start that project and you know you just need something that looks good, works well and shows everyone how amazing your little business is!
And we all know your website is at the centre of all your marketing, we send everyone there from leaflets and social media and pretty much any other form of advertising…so it needs to be up and ready to go.
Plus you're keen as mustard to get everything ready and perfect. (I wish I had emojis on my keyboard…)
I know, I feel like that with every start up I speak to. It's so exciting! 🙂
So I brought out a product that should help start ups (or anybody short on cashflow for that matter) with a getting online. Giving you a good foundation for when you're ready to move on to something bigger and better with your website.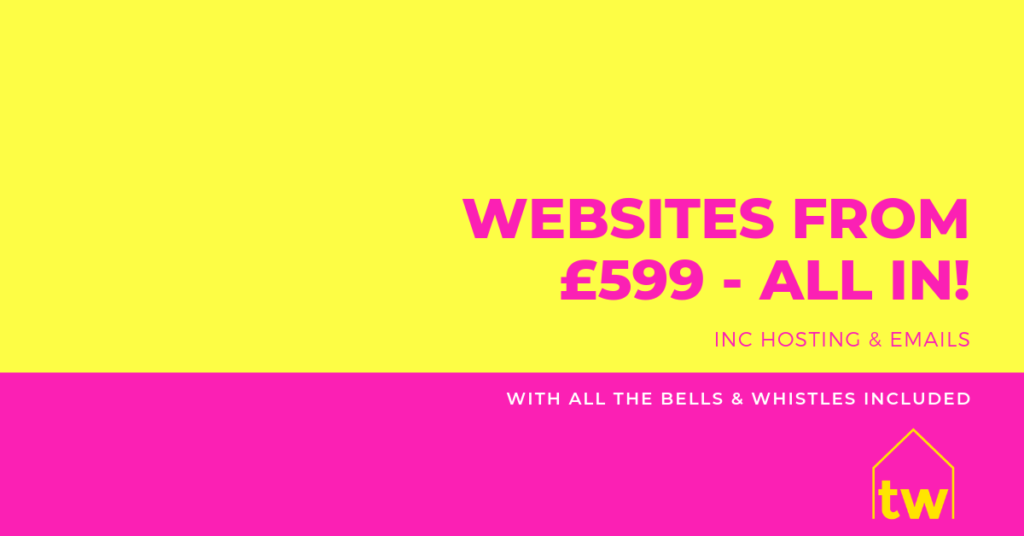 This is so new it doesn't even have a web page!!
I'm that excited I just needed to get something online.
I'm adding a splash of colour to this product and and I'll be working on packages and getting a page out this week. For now though, I just needed to shout about it!
If you need an affordable website for your start up business, that has all the bells and whistles on that you'd expect your website to have these days
mobile optimised
email address included (not managed)
12 months hosting (which is line rental for your website – it shows people your website)
social media links
GDPR compliance on all contact forms
5 pages
Helpful videos to make sure you get the best from your website
There's more involved obviously, but this will get your business off on the right foot.
Have a website you can be proud of right from the start.