If you want to up your marketing efforts, but feel like it's ANOTHER thing to add to that never ending to do list, I'm hoping that I have put 4 little quick wins together for you to help you get more traffic to your site and up your Google stats.
Writing a blog post tells Google your website is still active. As there are many (many) websites out there that have been built and left. Google doesn't want to show people out of date websites. It wants to show value and current information. If there's no activity on your website, you'll drop down the ranks and it'll be even harder to find you!
Plus, remember that content is KING and having a regular stream of value for your audience will keep themcoming back for more, turnin readers into buyers.
Quick Tips:
try and post a blog monthly at least (if you have time to do more – go for it!)
Use a mix of stock and 'real' images. People can spot a stock photo from a distance.
try focusing on evergreen content (stuff that doesn't go out of date, like statistics and things like that)
Emailing your list with one of the amazing blogs posts you've written (see point #1) is one of the easiest ways to get people engaged and on your website.
Email marketing is easily one of the most effective ways to market your business. Mainly because your audience here is already engaged – they've given you their email address after all.
Quick tips:
Try and keep to a consistent schedule – every month/fortnight/week is good.
Don't go for the hard sell – big no-no on email!
use MailChimp (or other email platform of choice) to make sure you stay ahead of laws and it also allows you to personalise
Don't use your Outlook/MacMail account. They're not made for this type of email.
Experiment with subject lines, to see what works best for your audience
Always (ALWAYS) provide value. It's what will make people read and engage with you.
Maybe I should've put this at number 1… 🙂
Giving out content that helps your audience and teaches them is great. I mean, we all know the old, 'Know-Like_Trust' saying, and ye, you should tell people about you and your business. But no-one *JUST* wants to learn about you (sorry). They're more interested in themselves.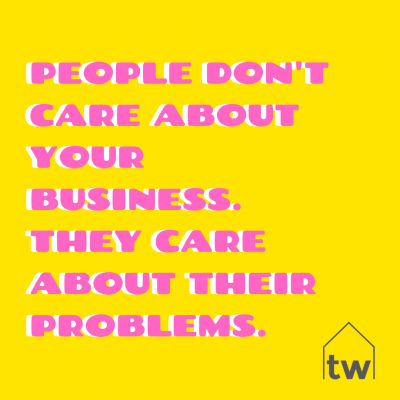 #4. Engage on social platforms
Social media platforms, especially places like Instagram can really help your business get in front of the right people.
Yes it's over crowded, yes it's another job to do, but well worth it.
And, before you go blaming algorithms and the likes, I was doing this myself, and I listened to a podcast the other day, and got some home truths… you'll recover from the algorithm *if*
you actually use it as a social tool – interact. Don't post and run!
you post quality content that your audience engages wth. So do some research, find out what they want and post it! 🙂
Post at least once a day or every other day if you can.
Test everything
Check interaction by signing up for a business account. Watch for what works and bin what doesn't