Lloyds Energy Ltd are an energy supplier from Greater Manchester. They'd had a website for quite some time, but it wasn't encouraging their high end business clients to get in touch.
The owners of Lloyds Energy Ltd are very customer focused and although their customer service skills are the best around, they didn't feel that their website was giving customers the same experience.
They hadn't received any enquiries through the website in over 12 months, and we put it down to the dated design and hard to find contact forms.
Scott approached me to take a look and see what we could do.
I created a more visual website, ensuring that the businesses values around the environment and their high customer services were communicated to people visiting for the first time.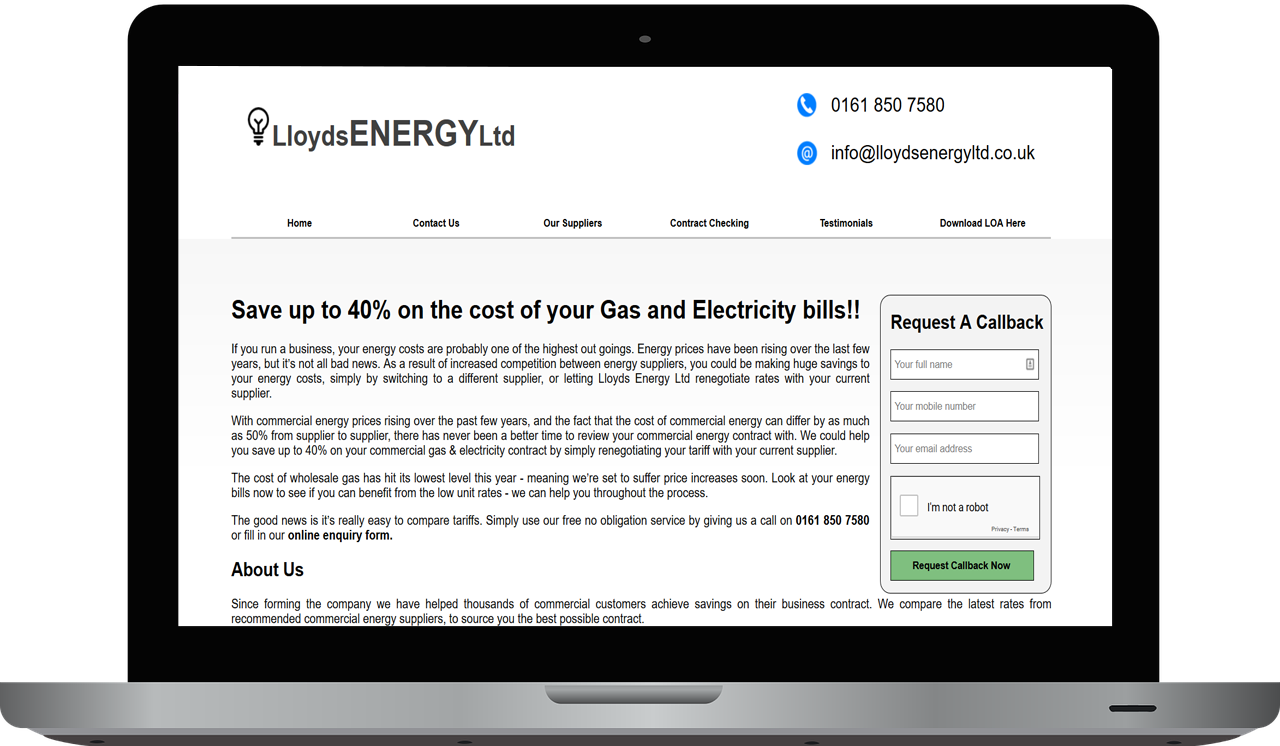 Lloyds Energy Ltd weren't getting any enquiries through their website and some customers had complained that the website wasn't secure and was lacking in other features.
I've tried to overcome all of these problems by making sure all certificates are in place and the website is easy to navigate.
The website now also shows just how experienced Lloyds Energy Ltd are, and the amazing number of customers they've helped. You'll be surprised just how much you can save with some expert advice, talking to people who know what they're doing will make all the difference.
And a big plus is that they spend the time on hold to energy companies, not you. You can get on with running your business, making it, not spending it!
The final result of the website is above on the video. You can compare the two in the two videos.
The new site makes it much easier to contact Lloyds Energy Ltd and explains more about what they do and who they work with.
I've also made sure their listings in Google are displayed correctly and are abiding by Google's rules.
And after learning more about Lloyds Energy Ltd, I'm looking in to my energy. Their expert team are SO helpful and knowledgable, I don't think I'll be going anywhere else.
If you'd like to know how you can help your business save more money on energy, visit their site. Or contact them direct:
DO You want you own trasformation?
If your website is looking a little outdated or tired, why not give me a shout and let's take a look at what we can do!